Filter by Category
The Landing (Grades 6-8)
Step Up Night, Grades K-8 Care

Mar 1, 2018 at 5:30 pm
An evening for parents to explore what the next grade level will be like or their child(ren) at Breakwater. Families have the opportunity to meet teachers, visit classrooms, and learn about curriculum.
To support this wonderful evening, the Breakwater Enrichment Center is pleased to offer childcare. We will provide a fun, relaxed evening full of board games, arts & crafts, and a few gym games.
Families are welcome to drop all K-8 students off at the Dan (gym) beginning at 5:15.
Step Up Night: Thursday, March 1st, 5:30 - 7:30.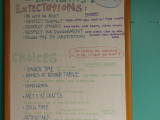 The Landing, Grades 6-8
with Jessica Foley

Mar 5, 2018 at 3 pm
The Landing is Breakwater's after-school space for middle schoolers. The Landing is located in the lower level of the Jessie. Students will be able to find a quiet space to do homework, spend time with friends, or engage in a self-directed project.
The Landing will have several special opportunties to participate in:
Mondays: Homework Club with Denny
Wednesdays: Open Studio @ The Curiosity Lab
The Landing will be open from 3:00 - 6:00 PM Monday - Friday. There will be one lead after-school teacher. Select teachers from the day program will also make an appearance one afternoon a week in The Landing.
Enrollment is $210 per selected day for the spring semester. The spring semester dates are March 5 - June 8. Drop-ins are welcome at $15/day.
Payment plan available: $50 deposit plus 3 payments of $53.33